Our Veterinarians
The Palm Glen Animal Hospital team of skilled veterinarians welcomes you to our practice. Proudly serving the Phoenix and Glendale areas. At Palm Glen Animal Hospital, it is our daily privilege to provide quality vet care to your cherished pet, with compassion and competence. We hope to ensure a positive impact on our patients, pet owners and the local community.
Dr. Bernard Mangone
Dr. Mangone graduated from Colorado State University, College of Veterinary Medicine in 1996, and has practiced emergency medicine for the last 11 years. Dr. Mangone enjoys caring for dogs, cats, reptiles, and birds, with an emphasis in exotic medicine, large and small. He enjoys all types of outdoor activities with his family. His family includes wife Malea and son Ryan. Not to mention—8 Dogs (Tanuki the Akita was in the movie Hachi with Richard Gere), 2 Cats, 2 Ducks, 9 Tortoises, 2 Macaws, several species of snakes, 1 tarantula, and various species of fish.
Dr. Adele Murad
Dr. Adele graduated from Ross University School of Veterinary Medicine in September 2015. She completed her clinical year at the University of Illinois College of Veterinary Medicine in Urbana, Il. She received her Bachelors of Science in Veterinary Medicine from the University of Arizona in 2011. Dr. Adele has a strong interest in small animal medicine, exotics animal medicine, and shelter medicine. She enjoys caring for cats, dogs, backyard poultry, and rabbits. Currently her family consists of a handsome cat named Turkey and a habitually jealous rooster named Peez. In her free time, Dr. Adele enjoys hiking, running, yoga, volunteering at shelters, and seeing live music.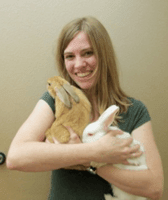 Dr. Alicia Smith
Dr. Smith is a graduate of Kansas State University College of Veterinary Medicine. After practicing emergency medicine for several years in Kansas, she traded tornado season for monsoon season and moved to Tucson, and has now relocated to Phoenix to join the team at Palm Glen Animal Hospital
Dr. Smith's areas of interest include preventative care and internal medicine. She also enjoys exotic animal medicine, particularly rabbits and rodents. Her furry family currently consists of a chinchilla escape artist aptly named Houdini and a Russian Dwarf hamster named Hugo.
In her spare time, Dr. Smith enjoys yoga, reading, and craft projects. She is currently working on her Master's degree through the Phoenix Zoo.